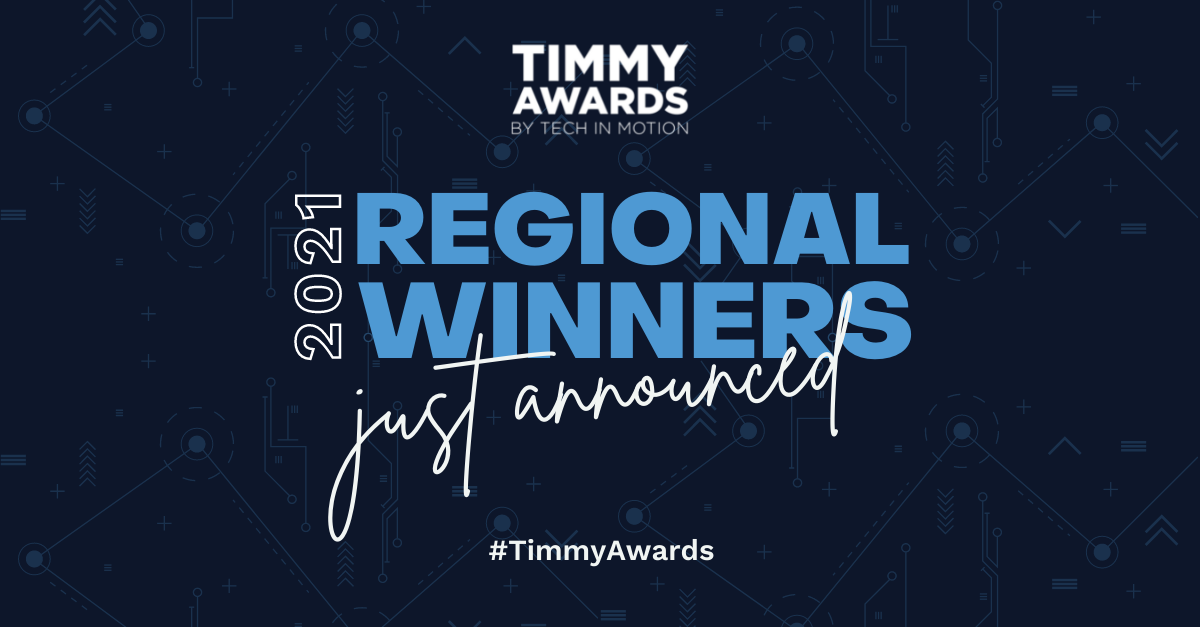 After a competitive race that led to thousands of votes across North America, Tech in Motion is proud to announce the Regional Winners for the 7th Annual Timmy Awards. These companies and managers, as well as many of the finalists, have shown us how to thrive in a constantly changing work environment, and their agility and leadership skills have proven to be the very best in their city. These Regional Winners will now represent their cities in the final National Round, where they will be judged by a panel of industry experts, including Bruce Wang, Engineering Director at Netflix, Adam Cheyer, co-founder of Siri and Viv Labs, Anita Jindal, Senior Director of Engineering a VMware and many more.
To see who has been chosen as the best of the best in the tech world, tune in on October 28th for the 7th Annual Timmy Awards Ceremony! The Timmys will once again be a fully virtual experience, with the awards show streaming worldwide on YouTube. With special guest speakers and the announcement of the six North American Timmy Awards, the biggest night in tech will be the place virtually everyone will want to be. Click here to RSVP for the 7th Annual Timmy Awards.
Now, let's meet all the regional winners.
Best Tech Startup
This award recognizes startups built by forward-thinking leaders with a product or service that aims to disrupt the market. These companies exemplify agility, innovation and resilience, as well as an ability to foster an outstanding work environment for their employees. Whether demonstrated by a major funding round, a recent product launch, a successful business pivot or another ground-breaking development entirely, winners of this category have identified what it takes to succeed in today's competitive market.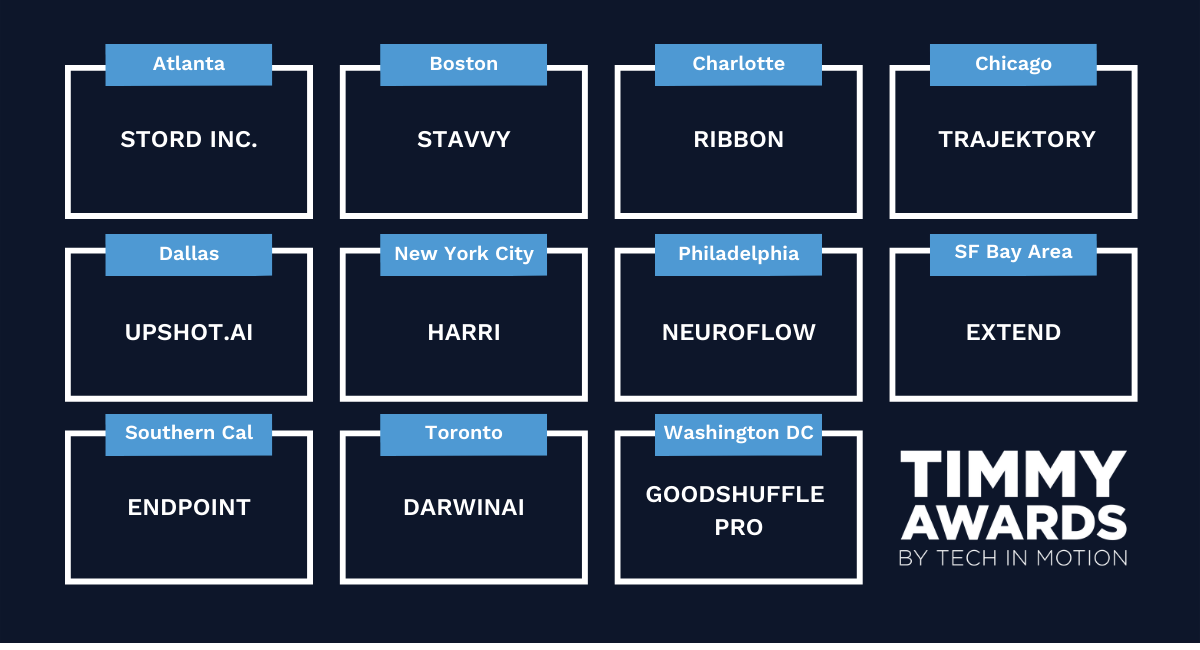 Best Tech Work Culture
Best Tech Work Culture winners have successfully unlocked employee potential through a shared mission and sense of community, inspiring performance, and rewarding contributions at every level of their tech teams. Recipients of this award have an exemplary tech work culture (both in the office and remotely) that actively promotes technical creativity, diversity, learning, and meaningful recognition. They are determined to build and sustain an inclusive environment from the top-down, encouraging employees to bring their authentic selves to work every day. They implement strategic hiring practices, explore and celebrate team member differences, and encourage diverse thinking to produce an innovative product and/or service.
(Note: Winners of this category are separated based on company size: Small-Medium Sized Employers (1-250 Employees) and Large Employers (251+ Employees)
Small-Medium Sized Employers: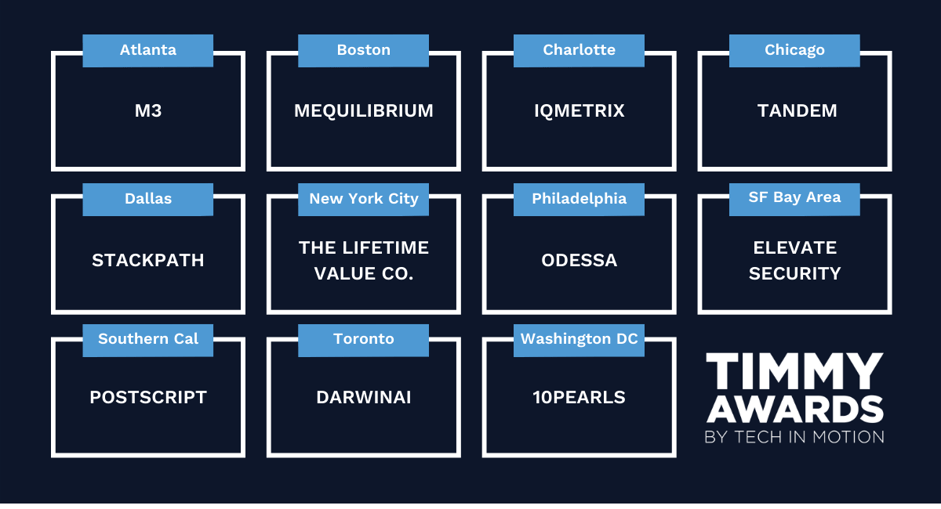 Large Employers: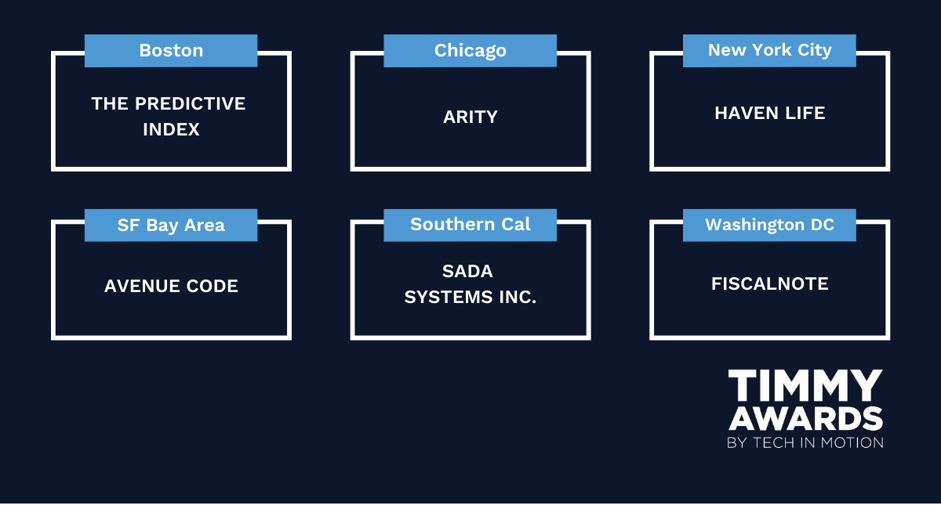 Best Tech Manager
A 2021 Best Tech Manager winner personifies leadership, innovation and positive influence. This award celebrates technology leaders and visionaries who go beyond the required duties of a manager to empower their team in a changing world. This person promotes career growth, ensures a great team culture, inspires performance, and successfully leads their team through unexpected territory, all while ensuring the highest quality product and/or service.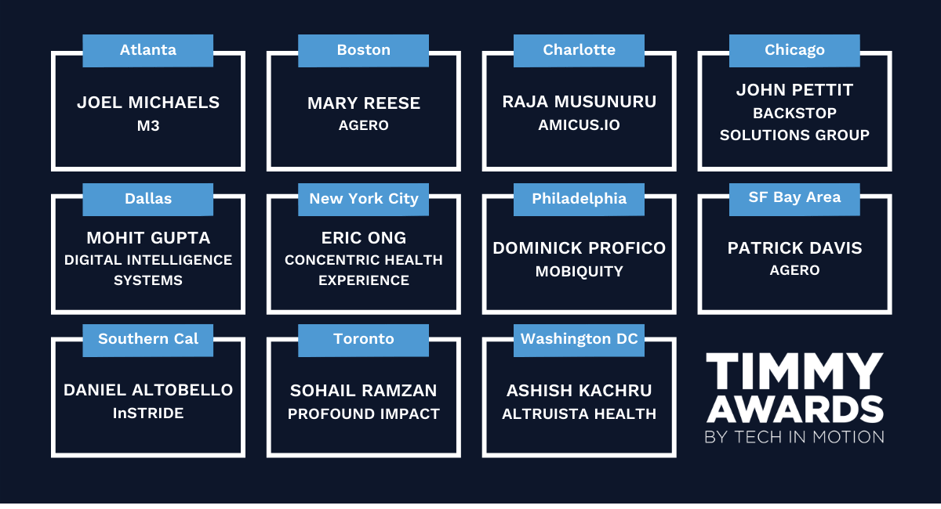 Best Tech for Good
The Best Tech for Good Award shines a light on the people and organizations leveraging technology to make the world a better place. Winners of this award are a product, service, or individual using tech to tackle today's most pressing social, global, and environmental challenges. Successfully answering the call to serve, harnessing the power of technology to organize solutions, improving quality of life, and helping our communities adapt to a changing world, recipients are honored for their outstanding efforts to give back and lift people up when they need it the most.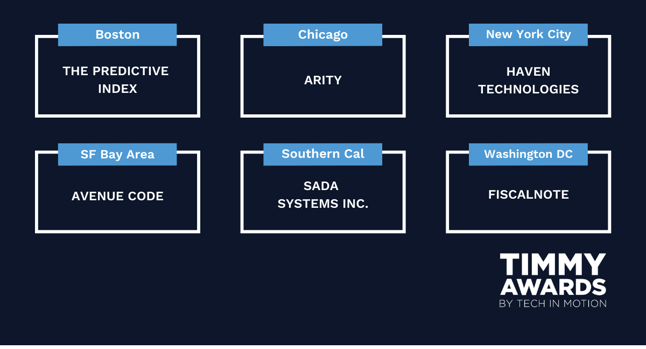 Best Tech Enterprise Employer
While not a regional award, these North American Timmy Award finalists are enterprise-level employers that foster technological growth, inclusion, and invention at all levels. Whether marked by a high volume of tech hiring, impressive retention rate, world-class employer satisfaction ratings, or unanimous approval of leadership – top enterprise employers go above and beyond to keep their tech talent engaged. Recipients of this award leverage cutting-edge technology tools, encourage creative thinking, champion professional development, and promote diversity, equity, and inclusion.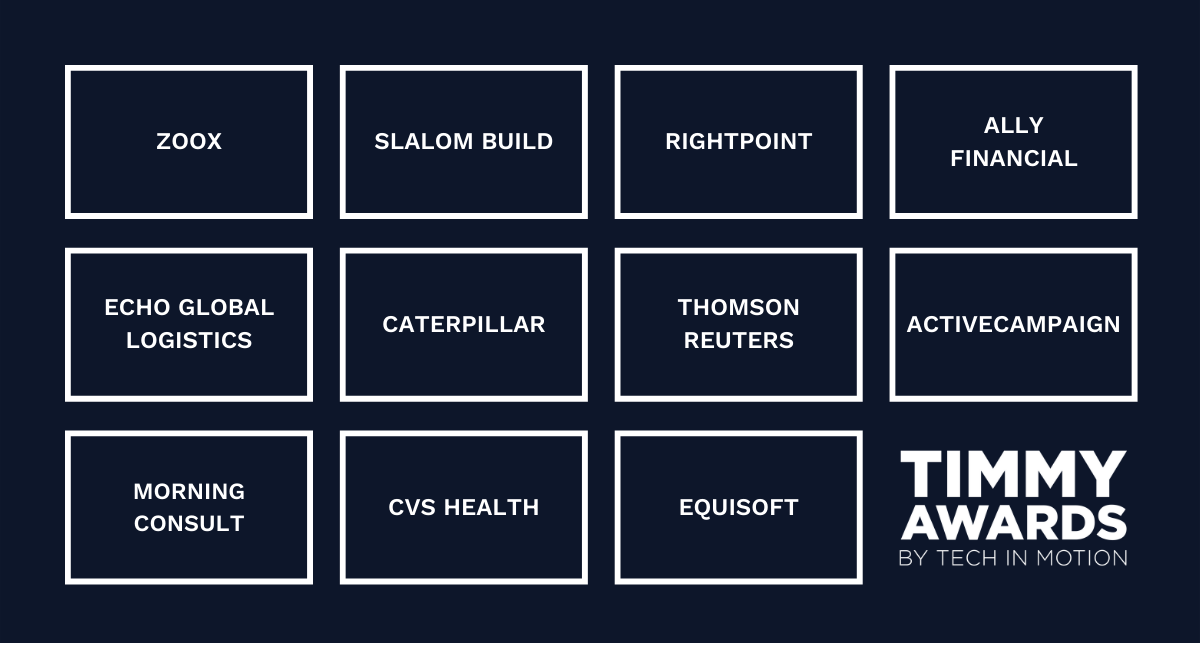 Make sure to join us for the 7th Annual Timmy Awards Ceremony on October 28th! See and hear from our National Timmy Award Winners, watch fun and motivational remarks from our special guest judges and celebrate the year that was in tech. Streaming worldwide on YouTube, no matter where you are, you can be a part of the 2021 Timmys! See what you're in for based off last year's event below.


Questions about the 2021 Timmys or want to know how to be involved? Contact us at Timmyawards@techinmotionevents.com. The Timmys were created in 2014 by Motion Recruitment's event series Tech in Motion, the North American event series that continues to bring the tech community together to meet, learn and innovate for 10 years.