The reality of blockchain's "Layer 2" process is gaining significant traction in the tech world.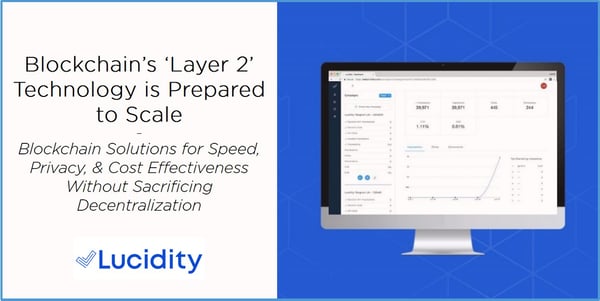 In blockchain's infancy, an innumerable number of companies attempted to harness the decentralized, cutting-edge capabilities as the panacea to all their technical problems. While some have been successful, the overwhelming majority began to discover blockchain's native limitations.
There are other issues as well, such as high costs and questionable privacy. Root blockchains could, theoretically, implement changes that resolve these issues, but it would come at the cost of decentralization – the
purpose
for blockchain's inception.
So, how do we implement blockchain solutions for speed, privacy, and cost effectiveness without sacrificing decentralization?
Enter Layer 2 blockchain.
Layer 2 blockchain is often referred to as an "off-chain" solution, as it is built
on top
of a root blockchain. An off-chain solution can catalyze a native blockchain while retaining all decentralization benefits. Essentially, blockchain is the trust network and
Layer 2 processing will manage the bulk of data, solving the speed/scale problem will significantly help with blockchain widespread adoption.
Layer 2 Blockchain Can Go Mainstream
Layer 2 platforms process data in a way that decreases the computational burden the root layer usually bears. By offloading transactions from the root chain onto Layer 2 platforms, the blockchain network can process these transactions much faster.
Layer 2 can also be employed to keep data private. Root blockchains like Ethereum are fully public, and all transactions that take place on those chains are transparent. But for businesses that need to keep sensitive client data private, the off-chain Layer 2 solution provides a secure, private alternative. Off-chain solutions like Layer 2 are by nature private, and therefore allow for this.
Blockchain's Layer 2 will help us create ledger systems that are usable, scalable, and applicable for all types of industries and can compete with the likes of established, centralized systems.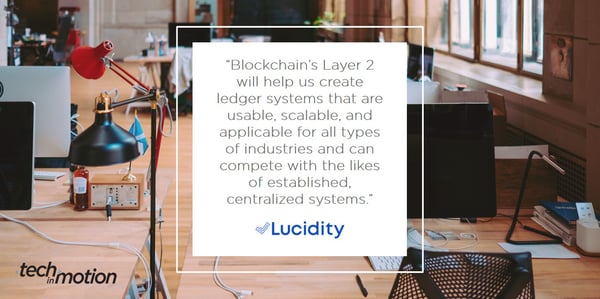 On the other hand, blockchain investors, enthusiasts and engineers are often drawn to projects through a higher calling, including aspirations like:
Can I make an industry fairer?

Can I use technology to protect someone or something?

Can I make blockchain an instrument of a more democratized way of operating my business?
Betwe
en blockchain technology and the advertisi
ng industry, there is an attractive ethos boost for how blockchain can improve trust, with clean, verified data and increased efficiency. Decentralized analytics prevent rogue ex-employees or hackers from manipulating data in hidden places to for their own benefits. Transparency into fees means no more unscrupulous practices that ultimately hurt advertisers and publishers alike.
Perhaps the simplest but most thought-provoking opportunities Layer 2 presents is the greater mission to keep the internet free and accessible through ad supported content. The democratization of information has changed the way people interact and learn, and the blockchain developer community has certainly
rallied around this idea, which is why a
dvertising is at the top of the list of industries that can be positively impacted by blockchain.
We invite you to partake in the education, testing, debate, and collaboration across the industry and help lead the way to a faster, safer and decentralized platform.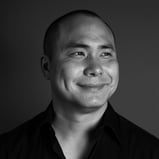 Sam Kim – CEO and Co-Founder at Lucidity
Born in Seoul, Sam settled with his family in Brooklyn as a child. He won a scholarship to the prestigious Poly Prep Country Day School and later, Phillips Academy Andover. His early career plans focused on science until he realized life in a startup suited him better than life in a lab.
After graduating from Columbia University, Sam worked at an incubator which taught him the

analytical

foundation and s
trategic planning skills that go into launching a business. When that company was acquired, he moved to Vietnam for the World Bank to learn about global business. He later started Edgepoint Group, a firm trading Vietnamese commodities in the U.S. market and his passion for building successful companies began. Sam later founded mobile ad company, The Mobile Majority (now Gimbal) and ESDF Management, a video game production and finance fund. While starting and running companies, Sam squeezed in getting an MBA from the University of Chicago.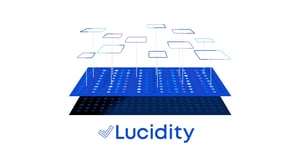 Sam is CEO at Lucidity, his 4th enterprise, which was named Blockchain Startup of 2018 at the Block Awards. Lucidity is a powerful blockchain platform that allows decentralized applications to be built quickly and cost-effectively.