This October, Tech in Motion will once again host The Timmy Awards ceremonies across North America. The coveted Timmy Award will be reserved for companies and individuals who make the cut in proving to be the best and most inclusive technology companies in their region.
With more chances to win in 2019, a panel of highly esteemed judges and the return of the ever-popular regional ceremony and celebration, the Timmy Awards are officially back. Nominations are now open and we couldn't be more excited.

This program was originally created to meet demand for honoring companies who make work fun, inclusive, innovative and engaging. It has since evolved into a community of its own, with a massive national following and local city celebrations each October that feel more like a gathering of familiar industry friends than a formal ceremony. If you attend any tech awards event this year, let it be the Timmy Awards. After all, anyone and everyone is welcome to participate, free of charge.
Awards and Nominations
We are proud to introduce an exciting spin on the four existing awards categories you've come to know; Best Tech Work Culture, Best Tech Manager, Best Tech Startup and Best Workplace for Diversity. This year, not one, but two awards will be given in each category. The Community Favorite Award will allow the public to vote on and inevitably select the winners in each category. The Judge's Choice Award asks a panel of local experts to evaluate an entire pool of pre-qualified nominees. Companies with the highest scores from judges will be crowned Judge's Choice winners.
The nominations form is simple. Tell us why you think your company or manager deserves to win by answering a few questions. Provide concrete details that will set them apart from the rest. This year's nominations platform has been optimized for an ideal user experience. You can submit photos and even videos to support your nominee, as well as save your form and come back to it at a later date before submitting. Furthermore, simply opt out of the Community Favorite award on the form if you only want to be considered for Judge's Choice. It's that easy!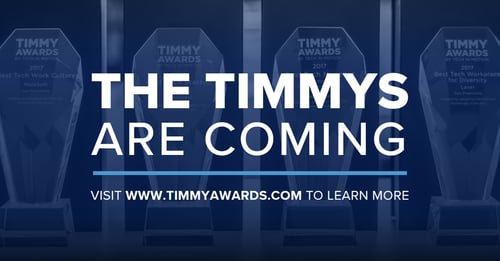 Why Nominate?
You may be wondering if a Timmy Award would benefit you and your company. As an organization backed by two technical recruiting brands, Jobspring Partners and Workbridge Associates, we wanted to create an accolade for all fellow talent acquisition experts! It's important to build a strong company culture with innovative leaders surrounded by an inclusive work environment. We already know you are doing these things, and the Timmy Awards is our way of helping you tell the world why your company is exceptional.
With the new Community Favorite Award, there are more chances to win than ever before. Imagine the satisfaction of sharing your Timmy Award win with prospect talent you're hoping will choose to work for your company over all others in your industry? As a Timmy Award recipient, you'll receive a plethora of marketing collateral to use when branding your company as an outstanding place to work; an honor directly from the local community and subject matter experts themselves.
Let's not forget the Best Tech Manager category, specifically created to showcase individuals instead of companies. This category is all about the leaders that play a critical role in helping you build the company you envision by strategically working with your employees day in and day out. Leaders of this caliber deserve to be celebrated. We often see entire teams of product designers and engineers nominate their team leader for this award. The Best Tech Manager Award brings strength in leadership to the forefront of the conversation of innovation and inclusivity.
INTERESTED IN VIEWING A FULL LIST OF PAST WINNERS? CLICK HERE.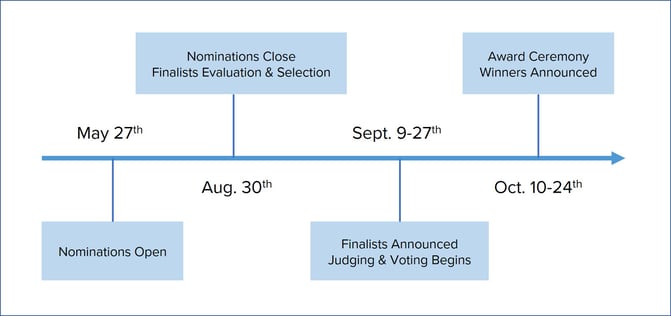 Celebrate with us at the Timmy's!
Winners will be announced throughout the month of October in every participating Timmy Awards city. Is your city hosting this year? Click here to find out. Your local Timmy Awards will kick off with a networking reception over food and drink along with interactive demo stations from local innovators (think AR/VR and Gaming!). The celebration will continue with an awards ceremony where winners in each category will be announced and awarded trophies. Acceptance speeches are encouraged! The evening will wrap with an exciting and congratulatory celebration of all winners, finalists and nominees. You'll want to be in attendance for one of the most expansive celebrations of tech in the nation!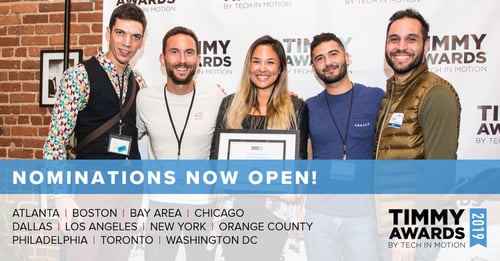 Click the image above to nominate today!
Questions regarding the 2019 Timmy Awards process or how you can get involved? Contact us Timmyawards@techinmotionevents.com. The Timmy Awards were created in 2014 by Tech in Motion, a North American event series that has connected local tech communities together to meet, learn, and innovate for almost a decade.