The Timmy Awards were created four years ago by Tech in Motion; an event series whose mission is to bring local tech communities together to meet, learn, and innovate. The award ceremonies will take place this October in 10 cities across the US and Canada to celebrate the most innovative tech companies in each region. Voting opened to the public and the competition is fierce. Here's what you need to know.
This year, the Timmy Awards are bigger and better than ever with a new nominations system, a record-breaking 100K membership base and a voting process that encourages the local community to weigh in. Read this step-by-step guide for nominating, voting, participating, and attending an award ceremony in a city near you.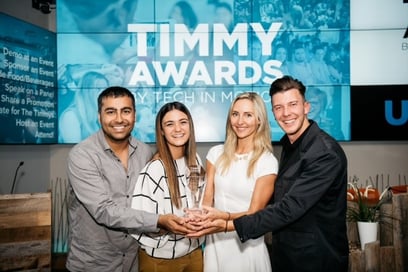 In July 2018, Tech in Motion hit a remarkable milestone reaching 100,000 active members nationally and continues to grow each day. In July, the Timmy Awards rolled out an advanced nomination system, leading to a pool of hundreds of nominees which have been narrowed down to our finalists.
Winners will be chosen by two audiences, a combination of the popular vote and a panel of expert judges' scores based on nomination submissions. This structure aims to level the playing field for startup and enterprise companies by ensuring the most deserving companies are awarded, regardless of size of the company and/or number of employees.
The 2018 Award Categories
We have four award categories: Best Tech Startup, Best Tech Manager, Best Tech Work Culture, and Best Tech Workplace for Diversity. Voting is now open, and we want YOU to weigh in.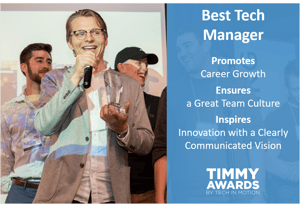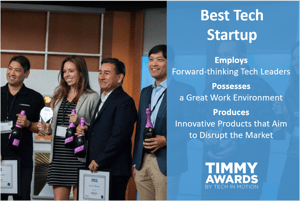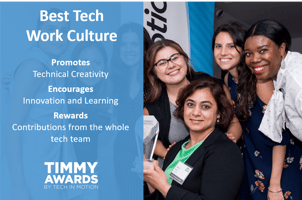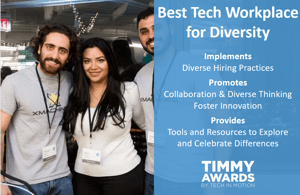 Nominations Process, Finalist Selection & How to Vote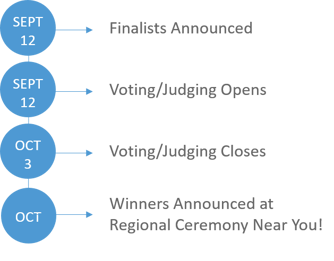 Over the past few weeks, we've seen nominations pour in across industries including healthcare, fintech, wellness, software as a service, e commerce, AR/VR, real estate, fulfillment and more! While every nominee stood out to us for different reasons, each city has narrowed their finalists down in each category.
The nomination form was simple and collected the following information from each nominee: company logo and/or manager's headshot, company details (such as size, location, etc.), and specific insight into why the nominee deserves to win.
What's next? It's time for YOU, as a member of the local community, to tell us who you think should win a 2018 Timmy Award! Interested in saving important Timmy Award dates to your calendar? Check out this Timmy Award timeline so you don't miss a beat!
From September 12th through October 3rd, voting is open to the local community and our team of expert judges will also have an opportunity to score finalists based on the answers provided in their nomination forms during this time. Individuals can vote up to one time per day. The judges will deliberate, and winners will be chosen prior to the awards ceremony in each region.
Winners Announcement & Celebration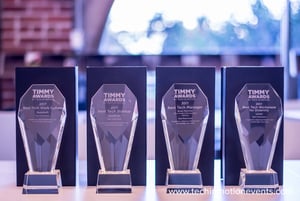 In the month of October, each city will host an awards ceremony to announce and recognize the well-deserved Timmy Awards winners. Each event will start with a networking reception over appetizers, drinks and companies demoing their latest technologies. The evening will then move into the awards ceremony where we will announce the winners for each category and invite a representative of each winning company to the stage to accept the coveted Timmy Award. The evening will wrap with an exciting and congratulatory celebration of all winners, finalists and nominees!
You or your company could be the next Timmy Award Winner! Vote Now!
Questions regarding the 2018 Timmy Awards process or how you can get involved? Contact us Timmyawards@techinmotionevents.com
The Timmy Awards were created in 2014 by Tech in Motion, a North American event series that has connected local tech communities together to meet, learn, and innovate for almost a decade.